Most people who take a trip to Jamaica fall in love with this country's relaxed island culture and warm, welcoming people. 
There are dozens of fun activities to do and spectacular attractions to see in this vibrant Caribbean island country. In this article, we've highlighted some of our favorites. 
So sit down, grab your favorite beverage, and let's start planning your escape to Jamaica!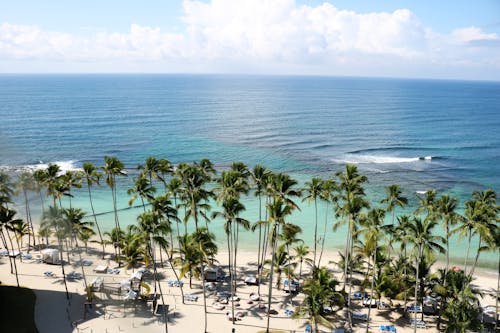 1. Dunn's River Falls and Park
Just a short distance away from Ocho Rios—one of Jamaica's most popular tourist hot spots—Dunn's river offers a spectacular display of cascading falls and wading pools. 
These falls stretch as high as 600 feet at their highest point. 
For the more adventurous travelers, you can even climb up the falls with the help of local tour guides. In total, the climb to the top of the falls takes about 1-2 hours—perhaps longer if you want to get the perfect picture!
This work is licsenced under https://www.flickr.com/photos/chrisschoenbohm/5375527558 
2. Martha Brae River
This work is licsenced under https://commons.wikimedia.org/wiki/File:Jamaica_Martha_Brea_River.jpg
The Martha Brae River meanders about 20 miles through Jamaica's lush, tropical rainforests. During your journey, you might catch a glimpse of capuchin monkeys, gray fox, spotted paca, and other cute critters! 
After boarding the raft from a concrete pier, you'll be escorted down the river by one of eighty-five experienced tour guides 
This excursion is perfect for couples who want to escape crowded tourist destinations and have some time together while enjoying gorgeous scenery on the banks of the turquoise Martha Brae waters. 
3. Blue and John Crow Mountains National Park
This park was deemed a UNESCO World Heritage site in 2015 and can be found just an hour's drive from Kingston, Jamaica's capital city. 
There's plenty to do in this sprawling 41,198-hectare park. From breathtaking hikes and nature walks to bird watching and camping, there's something to pique the interest of any traveler. 
Not the active type? That's okay! There's also plenty of non-intensive activities for you to enjoy. For example, you can treat your taste buds to the Holywell Coffee Tour—a 90-minute tour that concludes with a sampling session at the packaging house. 
4. Bob Marley Museum
This work is licsenced under https://commons.wikimedia.org/wiki/File:Jamaica_Martha_Brea_River.jpg
"Don't worry about a thing, 'cause every little thing gonna be all right." - Bob Marley
Of course, no visit to Jamaica is complete without checking out the Bob Marley Museum. This riveting attraction is located on the site of Bob Marley's former home. You'll receive a fascinating insight into the talented musician's life and the creative process he used to make his music. 
If you enjoy reggae music, the Bob Marley Museum is a must-see attraction!
5. The Blue Hole in Ocho Rios
The Blue Hole is a tropical oasis perfect for spending an afternoon. 
You'll find a crystal-clear turquoise pool surrounded by dense jungle foliage. While the pool itself looks relatively small, it's actually extremely deep—up to twenty feet in some areas!
For the thrill-seekers out there, you can test your nerve by jumping from the 15-foot cliff ledges hanging over the pool.
Or, if you just want to relax, you might prefer to book a massage or mud session at the top of the cliff. 
Start Your Jamaica Vacation Off On The Right Foot
With so many sights to see in this picturesque island country, you're going to be spending a lot of time on your feet. 
UIN has an entire selection of lightweight, comfortable footwear with Caribbean-inspired designs perfect for your time here!
---