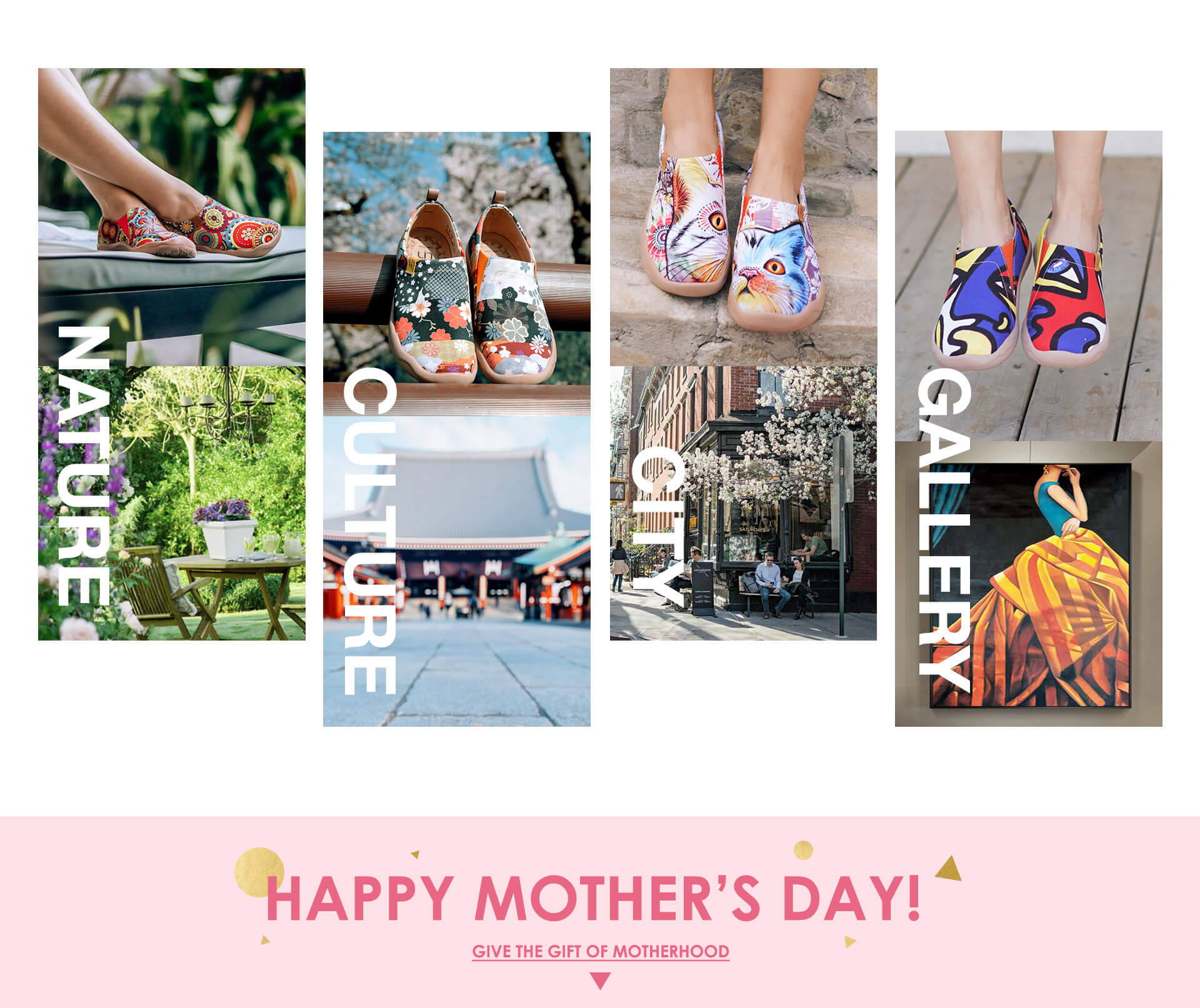 ---
A+
The shoes are gorgeous ans very confortable.
Très confortable !
Très bon achat, confo et super chouette
Love my Japanese print shoes‼️
Slip on shoes so comfortable and supportive
My flowery sunshine shoes
Very comfortable, well fitting shoes.. love the colours!
Love these shoes
These shoes are light weight. Very comfortable. And true to size. Highly recommend them.
They look beautiful and feel great
Muy bueno el producto
Se ha recibido el paquete, en perfecto estado y pronto. Felicidades por el cambio de empresa repartidora
Super cute shoes and comfy
Love the fit ..they were great for Travel
Great walking shoes. Much better looking than tennis shoes yet as comfortable
WOW
I just received my new shoes. They fit perfectly. The colour is not as bright as I was hoping for but the fit is perfect!
Excelente producto
fue un regalo para mi esposa y ella esta encantada con el producto
Magnifique
La qualité du produit est excellente et ils sont très confortable ! En plus, je fais des jalouses 😊
Uin blossom
Omg! These shoes are absolutely fabulous! Lightweight and so comfy! I wear these shoes everywhere with anything on. To me they.show who I am and the life I want to keep living! These shoes match my style!
Love them
The Uins are so very comfortable. The designs are bold and attention getting. Many compliments on them.
Love my elephant print
Love my shoes, but one problem..I wear a woman's size 12, since they don't come that big I must buy men's shoes and the prints aren't as cute. I really want the cat print but it only goes to size 10!
Absolutely beautiful!
Loved, loved the artistic design. I wear a 6.5 and that is what I ordered. It was definitely loose and especially wider than I like but they are so cute Im keeping. Going to try an arch insert and/or footlet socks.
These are super cute and I would keep them, but
I couldn't get the right shoe on, no matter how hard I tried. Even with a shoehorn. I have a high arch and it just wouldn't go.
A bear hug... do I need to say more?
They are a bit wide, so I replace the insole with an arch support one. The shoes fit better with the new insole and I am able to wear them all day without any foot pain. I love them.
Light shoes, fits on small size
I like that the shoes weighs light, great for easy light walking. Foot goes in easy with a light pull on the tap designed at back of shoe. It fits on the small size so will fits well without socks on. If want to wear socks then may need to order a size or half size up.It is canvas so is not waterproof. So I applied clothing wax to insulate it.
cute...
they are cute. Very wide. A little expensive for the quality
Epic W!
LOVE these shoes. Theyll be a fun pair for the summer. Ordered the other color today.
Adorable and comfortable!
I am in love with these shoes! I own 3 pair. Needs an insole to give a little support. I just used.some from my other shoes. I'm a 6 1/2 and I buy a 6 1/2 keeping in mind I add an insole. LOVE! You won't be disappointed!
Awesome shoes!
I love these shoes and have ordered a second pair. They are very lightweight, super comfortable and easy on and off. The painted designs are lovely. I normally wear a size 6 shoe but ordered a size 6.5 in these and they fit perfectly.
amazing 👏
I love, love, love these shoes. We keep buying them! They are beautiful, and the most comfortable shoes ever! Everybody wants my shoes!
Live my shoes
thank you so much for send my shoes very fast, they are very comfortable, beautiful, I'm very happy.I'm in love with them💙
Perfecto
Los zapatos son maravillosos, lo he dicho siempre. Entrega ok , rapided en entrega súper ok
5 Stars
To Whom This May Concern: I Heidi Scharton returned the Prayer shoes back to your Company size 9 in USA, but were a size to big, now it's September 9th 2020, and it's been awhile since I sent them back,my email is heidischarton@yahoo.com cell number 712-299-2471
This order was fulfilled way back in about April. I really hope that you haven't sent me another pair and charged me again.
I have been trying to return a pair of shoes that I just got 5 days ago, and they are the wrong size, I pry a sized 8 and you sent me a size a size 5, so please help me out with this. Thanks Judy Silverman
Epic W!
LOVE these shoes. Theyll be a fun pair for the summer. Ordered the other color today.
Comfort and Style
I really like the fit of UIN canvas shoes, and the selection of styles and colors is huge.
Nice fit.
Love these!! Very comfortable, colorful.Read reviews and said they have a wide toe box and they run on the larger side, to order a size down. Perfect fit.Very Happy with purchase.
Beautiful
Beautiful and vibrant colors & OMG so light weight! I just had to return them bc they were a little too big
Love them. Better than expected
Shopmeny
This wsd my second pair.
I purchased 5 - 7 day shipping. Notified you several times not recieved aftrt 10, etc days. I was promised a complete refund for to recieving as psid for.
Ad of today, refind jas not brrn credited my acvount
Shoes were received 15 days after order.
Please refund. Thank you
My first pair I purchased pair
through Amazon.
Beautiful
I personally love the shoes I received. So comfortable, light on my feet and did not make my feet to warm. Since this is a product review I will give it 5 stars***** for quality of product.
My daughter received the Porpoise design..They too are beautiful but to small for her.
I sent a request to return these shoes on July 31,2020 and have not heard anything yet. Also when I pointed out that according to the shipping notice that only my pair of shoes were being sent, they insisted that both pair would be arriving. Only my pair showed up.
Because it is international and the time differences, it takes awhile for communications to process. It took two more weeks for my daughters shoes to arrive. They did refund the express shipping I paid.
This is the first time I have ever seen a company have an option for a tip. I did do a tip thinking my order would get expedited serves. It did not.
The customer service area leaves much to be desired even in these challenging times. One star * for them
Beautiful color
Feels little right in the toes
The perfect shoe for jeans and shorts. UiNque designs. comfortable and certainly conversation pieces. I have 3 pair and had problem deciding which pair I loved more, I wear them constantly and they do not seem to show any wear or stains
Great pattern
I love the print, but they run very wide. Gaping around the ankles
Great show
Gorgeous bright colors. Great support. Lots of compliments. Order in multiple other colors and as gifts for others.
I would definitely buy the shoes again
I love these bright colored shoes youre so quirky.
Fun
So cute but runs very wide.
pending deliver
I still waiting the good and didn't receive until now, please follow
Pacific Time shoe
I love this shoe however the sizing was way off. I did the measure your foot on a piece of paper and ordered according to your chart. I should have gone up s size because my toes rub against the end of the shoe. I would also recommend some arch support because there is very little . I'm not sure that I would order another pair but have to say that I love most of the art work on your shoes.
i haven't received the shoes yet😓
These cute shoes are in European sizes
I ordered up as reviews said to, but their size 8 is really an EU 39. That is too big for my 7.5 foot. I wear a 38. I wish they would display the European sizes on here so people can order the right size. These are very cute so I put my inserts in them and I can wear them, but theyre kind of like crocs in this size. Ive gotten tons of compliments!
Cute shoes!
These are one of three pairs that I own and I get loads of compliments on them. The soles are not quite as thick as I need for work (I'm a nurse), so I put inserts in them. Perfectly comfortable then!