Toledo Collection-Solid Colors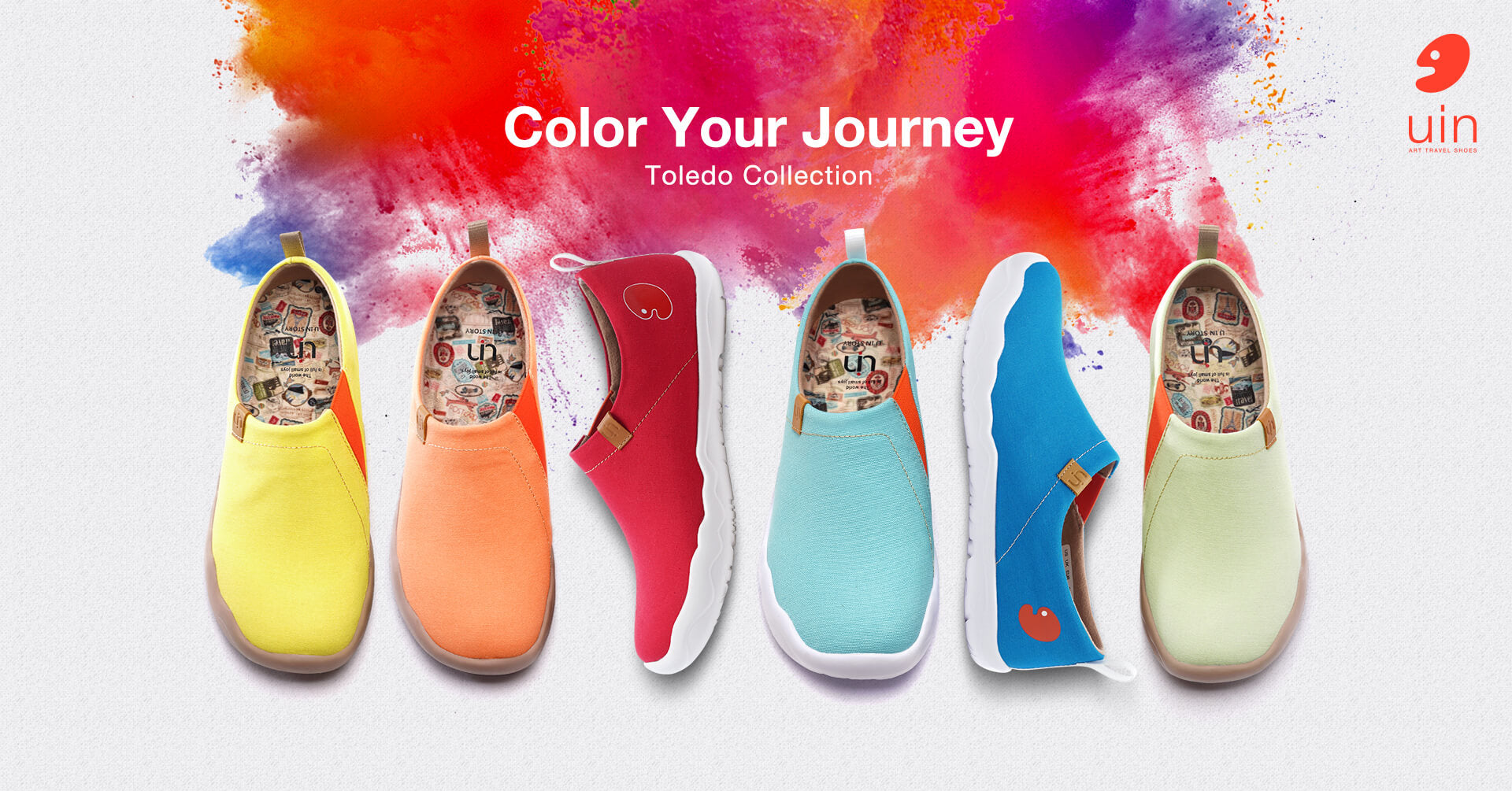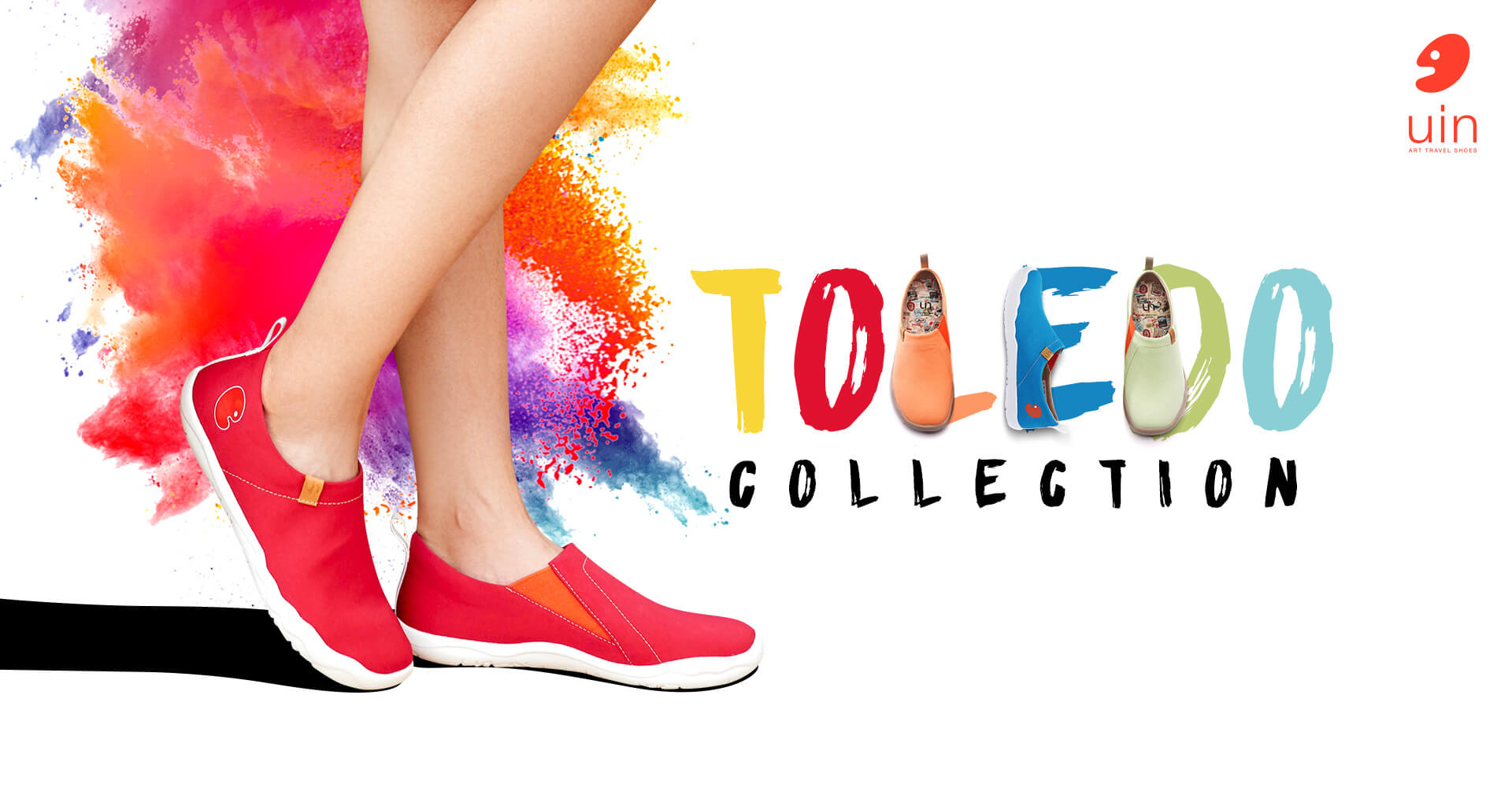 Choose from eleven pure colors including red, light green, orange, lemon yellow, azure and navy blue, to fit the summer vibe for your perfect vacation.
---
Badass
Awesome , beautiful everyone IMy family got one from Santa
Comfortable canvas all around, one of a kind easy-on shoe.
I now have 2 pair of UIN slip-ons, with a 3rd on it's way. Canvas with a rich look. Quite comfortable and easy-ons. Lots of compliments on an original shoe look. The future looks bright that I will be buying more.
Comfortable walking shoe
Great .. very comfortable. Only one downside .. I have to wear socks with them because they are wide at the back. Okay for colder weather but will not function in summer season for me. However even with this width issue the shoes are unbelievably comfortable.
Does fit too large
I absolutely love these shoes but just wanted to warn about the sizes. I usually buy a 9, an 8.5 I CAN fit into but my toes will usually be touching the tip of the shoe too tightly, so that's why I buy 9's. I purchased these in a 9 and they are waaaay too big. There is at least an inch and a half of extra space from my toe to the tip of the shoe, and the opening where you put your foot in is also too large. It should obviously be more snug around your ankle. So if you are like me and are on the edge of being a half size, I would recommend buying the half size and not a size up. For some reason Amazon is not letting me do just an exchange, but I have to fully return the shoes, and order the correct size, paying for them again, and then Amazon giving me Amazon credit instead of just refunding my money or letting me do an even exchange. Just another unnecessary action I have to take just to get correctly fitting shoes. Don't make the same mistake as me!
Inspired to see artists
Love that screams shoes. Cool
Great comfortable shoes!!
Very happy with these shoes. So much so that I bought myself 2 more pairs,and a pair for my daughter. Lol...... very comfortable and very cute!!
Love these!
I love these shoes! They are so cute and comfy. I have a slightly wider foot, so these may not work for narrower feet, but for me theyre perfect. Great without socks, but room for them if needed. Highly recommend...will be looking to get more in different prints for sure!
super cute/super comfy
I love these shoes. They're super comfortable, and fit exactly to size. I'm pretty much a true 8 and they fit just fine. Some people had said they had a hard time getting them on, I will say, I have relatively flat feet, so maybe that changes things, but they go on well. There's not much arch support, which I don't want or need, so that works for me. The bears are adorable and I've gotten a ton of compliments on them so far.
Toledo grey
Love at 1st sight, bogt size 39. Very comfy shoes. This is my 4th pair & all are great.
So original, so cute
I love the originality. I have a pair of all black leather slip-ons like these are and I ordered and returned a perforated suede-like pair. These shoes are fantastic and will be perfect for many outfits. So eye-catching, since the left and right shoes different as shown in the Amazon description.
So comfy!
Love these! I wear a size 10, bought same. Shoes were very comfy (not stiff) and nicely roomy,. They were a little wider than I expected but it allowed me to wear thicker socks. Have gotten lots of compliments on how cute these shoes are! Would definitely buy more from this company!
Beautiful design, Great Color palette, the Shoe Shape is perfect & Has a Keen Mary Jane feel and
These are as adorable as they are in the photos. I only hesitated because the side view photo made them look a bit dowdy, but the orange elastic convinced me otherwise -as it was the perfect complimentary color for these shoes. If they speak to you because of the design, get them. If you are a rounded toe box girl/woman, get them.Remember Sam & Libby shoes you might have worn in the 90s? the round toes remind me of a pair I had, but without the platform height. The comfortable Keen Mary Janes I have worn all summer long feel just like these in the foot bed (if that is the right term).These will need to be broken in just a bit on my right heel, but I placed a book on the heel overnight so that it would not press so much onto it & soften it up. I might need to put a silicone patch on the heel for a few days for added support if I dont wear a sock with them, just until I break them in a bit more. Blisters are for middle school me - in my Candies brand 1986 jelly shoes. I am an 8.5 wide width with a high arch more on the left foot and they fit perfectly. - I love looking down at them. I read Other reviews, as you are reading mine, and someone did not like how round the shoe was, but thats one thing I look for in a shoe; I own a 20 year-old pair of very round Doc Martens and worship their circumference from a high orbit. I dont like a pointy shoe nor a narrow design, so this is purely a beholder aesthetic. I am a quirky artist and paint lots of my art on oval canvases, So yeah- go figure. Bear shoes. I will be able to wear these either alone or with a slim trouser sock as I transition into early fall. I will update this review as they get broken in and the season progresses into the new year.There are those of us that this shoe will speak to, and if you are slightly interested as I was, I would say yes. I ordered on a Thursday and they arrived they following Saturday.
Cute and comfortable
These are really comfortable and they're so stinking cute. Good to wear if you don't feel like taking yourself too seriously.Unlike some other folks, I don't have trouble getting them on and off.To determine my size, I stood on a yardstick and asked my daughter to tell me how many centimeters long my feet are. My daughter's not available, so you'll need to measure your feet on your own.
Beary nice shoes!
I love these shoes! They look just like the pictures, and are very comfortable. My feet are very wide, and somewhere between a 6 and a 6.5, and it can be difficult for me to find shoes that fit without having to size up at least a full size. I ordered these in size 6.5, and they're perfect.The openings for the foot are a bit on the tight side at first, making it a little difficult to slide my feet in easily. But I've found that after taking them on again and off again over the last few weeks, they've become much more flexible.I would definitely recommend these to anyone who loves cute shoes, and has wide feet.
So comfortable
This is my second pair of UIN shoes. I am a teacher and am on my feet all day and these are so comfortable. Im not allowed to wear sneakers, but I can get away with wearing these.
UNIQUE DESIGN and VERY COMFY
These shoes are so darn unique that they gather lots of admiring eyes. They have a cushioned bottom which is efficient, but I wouldn't wear these if you are planning on walking super long distances - for that take your amped up sneakers instead. These are great as statement shoes, adding a cool/fun/unique accent to an outfit without relying on super loud colors. In fact, the bear hug design on the gray background with just tiny touches of orange matches with just about anything you throw on. Strongly recommended.
HAPPY FEET, HAPPY PUPS!!
I suffer from peripheral neuropathy as finding any shoe comfortable to have on my feet for more than 10 minutes is a real problem, and walking can be a nightmare. I saw these online and thought I would give them a try. They turned out to be my 'go too' shoes to wear with jeans, shorts etc. and my two puppies are loving them as well, is our daily walks don't end with an 'I'm sorry guys, but we have to back??.' Also they are super cute and every one wants to know where I bought them.
Best Shoes Ever
I own 7 pairs and recently bought 3 pairs for my husband . . , comfortable and stylish!
These shoes make people smile
I love the graphics on these shoes. The pictures are clear and crisp and fun.
Adorable- that is all!
Oh man, these are the cutest and very comfortable shoes. Can wait to take them traveling!
They are so awesome!
I recieved my shoes and loved them but they are too big so I need to exchange them for a smaller size.
Great shoes
Great feel, beautiful colors, I were a 7-5 but they only sold what was equivalent to either a 7 or 8. So I bought the larger size and it was too big. I returned for the smaller size and fit perfect! Really well made and fun.
Love the shoe---a bit too big, returned and reordered
Fun shoe- I wear a 9 1/2 and ordered a 10. Should have ordered a 9. Returned and reordered the 9 with ease!
Too big but gorgeous
Truly lightweight, not quite as vibrant as pictured but Im happy. They were big, though. Returning for 1/2 size smaller.
100% ⭐️⭐️⭐️⭐️⭐️
Excellent arch support. Best for cooler or cold weather, they keep my feet very warm. I've easily cleaned them with a damp cloth.
light loafer
This slip on loafer has light sole so the overall weight is much lighter than my other leather shoe. and I really like it being light. It fits well and wears very comfortable for daily office work.
<