[Photo credit to https://greecetravelideas.com/]
Plenty of sunshine. Exquisite beaches. Rich culture and history. These are all things you'll find on a vacation to Greece. 
With so many things to do and sights to see, it's hard to pick just a few to focus on for your trip.
But that's alright - we've done the legwork for you! If you're thinking of traveling to Greece for the first time, here are three ways to spend your time.
1. Hike Mount Olympus
If you're looking to stay active during your vacation to Greece, then you should consider making the trek up Mount Olympus.
Located on the border between Thessaly and Macedonia, Mount Olympus is the highest mountain in all of Greece!
The highest peak, Mytakis, stretches an impressive 2,917 meters above the ground. Due to its dizzying height, Mount Olympus is frequently referenced as "the home of the Gods" in Greek mythology. 
The elevated terrain in this area features a rich, diverse mix of animal and plant life so nature lovers will feel right at home here. 
Approximately 10,000 climbers make the ascent up Mount Olympus every year. However, only a percentage of them make it to the highest peak because the final portion of the hike is a Grade III scramble that requires technical rock climbing skills. 
But don't let that put you off - many of the lower peaks offer spectacular views without the difficulty encountered on Mytakis.
If you'd like a little more structure for your adventure up Mount Olympus, guided hikes are available.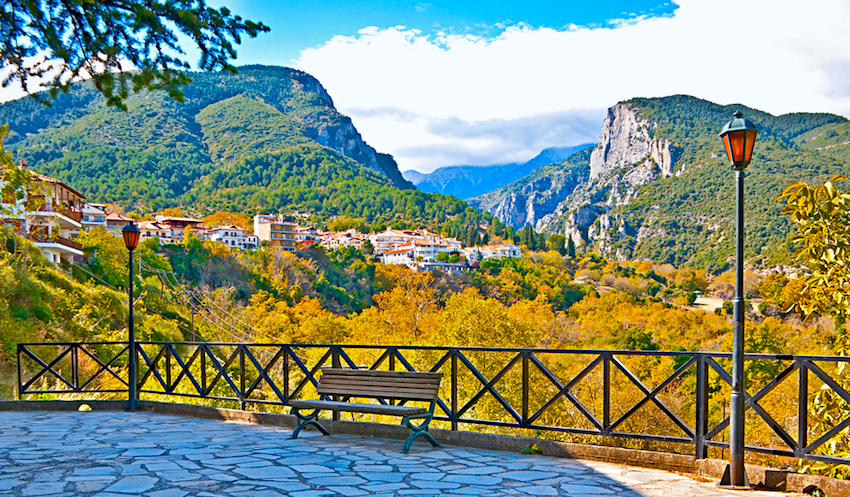 [Photo credit to https://www.greecetravel.com/trekking/mount-olympus/index.htm]
2. Enjoy Intricate Architecture in Santorini
For those with an eye for design and an appreciation for fine architecture, you'll love the intricate buildings in Santorini. 
This unique city is located on an island on the Agean Sea about 200km from the Greek mainland.
Interestingly, this island wasn't always there. It was created 3,600 years ago as a result of one of the largest recorded Volcanic eruptions in history. 
High above the sea on towering cliffs you'll find an array of domed buildings with colorful blue and white exteriors. 
[Photo credit to https://www.travelpulse.com/destinations/europe/greece/santorini.html]
There are also plenty of fun activities to try out, including:
Wine tours

Hikes 

Helicopter tours

Jetski excursions

Lava sand beaches

Delicious local food and restaurants

Explore medieval villages

Tour the active volcano
The island of Santorini was formerly named the world's top island by Travel + Leisure Magazine and hosts an estimated 2 million tourists every year. 
3. Pay a Visit To Delphi
Looking for guidance in your life? Then there's no better place to visit than Delphi - UNESCO World Heritage Site and former home to the Oracle of Delphi. 
It is believed that followers would travel hundreds of miles from surrounding areas to seek wisdom from the esteemed Oracle.
Although the Oracle is long gone, many architectural marvels have stood the test of time and are still standing today.
These include several temples where people would come to pray to the gods, a massive stadium for sports and competition, a theater for entertainment, and other impressive ancient ruins. 
These fascinating ruins paint a vivid picture of what it was like to live in Ancient Greece at the time!
[Photo credit to https://www.thisisathens.org/excursions-day-trips/day-trip-delphi]
Prepare For Your Greece Vacation With Help From UIN Footwear
Whether you're reveling in the architectural wonders of the area or making the ascent to the top of Mount Olympus, you're going to be spending your fair share of time on your feet. 
That's why it's important to have a comfortable pair of shoes for your journey.
UIN specializes in shoes designed specifically for travelers. Every pair features a light design that packs easily into a suitcase. UIN also provides more design choices than almost any other footwear brand!
We also have an entire collection of Greece-inspired footwear with designs derived from this amazing country. 
---